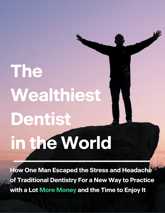 Here are just a few things you'll discover inside his story:
The mistake Dr. Peterson made that almost sentenced him to the "40-Year Plan," full of nothing but hard work until retirement. You'll see how he started down that path and then discovered something much better.
See how he breaks up his work between himself and his Associate. You'll find out what his Associate is producing (you will be very surprised) and more.
What Dr. Peterson's "taking home" and how he keeps that number so high working just two days per week.
The "7-Step Roadmap" he used to reinvent his practice so he could make more, keep more, and work a whole lot less.
To request your copy of Dr. Peterson's story while it is still available, enter your information now!