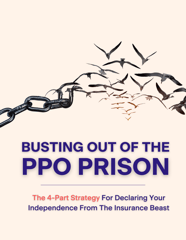 Cut insurance out of the picture, get their hands out of your pockets and find the high value patients you want with the help of our free PPO Prison Report.
You'll learn how to:
Decide who is in control of your future
Choose your FFS revenue booster for bigger + more profitable cases
Build a revenue foundation of solid "steel"
Work the system like a PRO
What better time to claim your independence from insurance companies. Download your copy of the FREE report today.